The Chinese Internal Arts
issue 25
Summer 1999
*** this issue has been archived off ***
( only selected articles remain)
| | |
| --- | --- |
| Grandmaster Chen Xiaowang in Reading. | |
---
Saying of the month:
Nothing in the world is softer than water ... - but we know it can wear away the hardest of things. The supple overcomes the hard, and the so called weak, the strong.
Dao De Jing


---
Master Chen Xiaowang
This was the first visit of Master Chen to Berkshire and everyone seems to have fallen in love with him! - certainly those lucky ones who had the opportunity to have their posture or movements corrected. Master Chen did not really display any of his famous 'power' until Sunday morning (see Gary's article below) and most people unfortunately missed that. But he's coming next year again (and at least a couple of students have already booked all of his seminars!).


| | | | |
| --- | --- | --- | --- |
| | | | |
| | One touch and Kathy's in a trance. | 'Give me five', says Ian | |
Master Chen quickly got to the bottom of the problem!
More hands-on corrections and Kathy has sneaked in again!
Master Chen relaxing in the garden.
---
Early Morning Fajing by Gary Jones

Grandmaster Chen Xiao Wang visited us over the weekend of the 12 June to give a series of seminars on Silk Reeling, Lao Jia form and Push Hands. As this was a unique opportunity, I decided to sign up for everything. I had heard many remarkable things about Master Chen, so I looked forward to the weekend in eager anticipation. I was not disappointed. Master Chen managed the large classes very effectively, and everyone had the benefits of lots of corrections. However, after the Friday and Saturday sessions, there was just one thing missing. Master Chen had not really demonstrated the advanced Fa Jing (energy release) movements for which he (and Chen style) are famous.

On the Sunday morning I went to Karel's early morning Xingyi class. I knew that Master Chen was staying with Karel and Eva, and suspected there just might be a chance that he would join us. I was to be rewarded. In the last 15 minutes of the class, Master Chen appeared to see what was going on. Karel explained that this was the Xingyi class. Master Chen smiled and nodded, and said that he learnt some Xingyi many years ago, but had trouble remembering what he had been taught. He asked Karel to demonstrate one of the movements. Karel obliged by doing Splitting (Metal). Master Chen nodded enthusiastically and immediately broke into a series of such movements, charging around Karel's drive, setting off fireworks and dropping grenades as he went. To try and describe the movement of his body: it was like watching a snake coiling to gather energy, and then uncoiling to release that energy in a single explosive movement. At one point I had to move quickly out of his way, at another it looked as if one of the beams supporting the outside of the house would come to grief.

After trying a few more Xingyi movements, demonstrating the same breathtaking power, Master Chen wanted to demonstrate a few applications from Chen style. Luckily, he asked Karel to attack him with a punch, and he countered with a number of movements including an elbow in the ribs. Karel retired at that point, which was a shame for the rest of us!

I was glad that I made the effort to go to that early morning Xingyi class, despite a busy weekend of Chen style. After all, it's not everyday that you see the stuff that legends were made of.



---

Commercial plug:
Master Chen has left with us his teaching videotapes of Chen style Laojia. They come in three separate tapes for the price of £90 (£30 per tape). Perhaps a bit pricey but as he shows every move from four different angles, they are invaluable for the serious students who want Master Chen in their living room at a switch of a button!
---
CIAA Demonstration in Reading
In June we held an Internal Martial Arts demonstration to celebrate the ending of our second Taijiquan Advanced Course. We know that some relatives of our students came under duress, but it seems all enjoyed themselves in the end (some even said that they might consider taking up Taiji themselves). No doubt the success of the evening was enhanced by our Xingyiquan and Baguazhang group and by the display of weapon forms. We are not blind to the fact that however enjoyable and healthy Taiji is, watching a 20-minute performance can, for the uninitiated, act as a very effective cure for insomnia. Unfortunately, the Xingyiquan display of the Five Elements Linking forms and the Swallow Form and the Baguazhang Form were so exciting that everyone went into a trance and no one took any pictures! We were so busy with organizing of the event that we forgot to take any pictures ourselves, so below are few pictures taken by Karen Pounds.
The evening made £95 profit, after deducting rent. The money will go towards making a short video for our patients at the Elderly Care Unit, Battle Hospital, Reading.
| | | |
| --- | --- | --- |
| | | |
| | The graduates of the 1996-1999 Advanced Course. | |
| | | |
| | The same group (minus the teachers) in action. | |
Eva with a straight sword (Taiji) ...
... and Karel with a 'crooked' spear (Xingyi)
Eva and Dawn displaying stillness in motion.
Emma just won't keep still, despite Phil's desperate efforts!
---
Master Luo Dexiu's Visit to Crowthorne
This was Master Luo's second visit to our school and this time it took place at Firtrees in Crowthorne. During his last visit, Master Luo taught Taiji applications. This time he concentrated on teaching principles, and used fighting applications to illustrate how to use these principles in action. His student, Aarvo Tucker, translated and helped in demonstrating applications. Master Luo covered a lot of ground in a short period of time (3 hours) and everyone found his approach very clear and the information provided useful.
Master Luo demonstrates...
... and students practise gathering their spirit (some are quicker, or others have more spirit to gather!)
---
Yin Yang Marathon in Reading
The second Yin Yang Marathon saw the action spreading further abroad. Unfortunately the weather here wasn't as good as last year and so at some places (like Reading) the attendance suffered, though at other places (like Windsor) the attendance was higher - probably a reflection on the quality of teaching (well done Kathy)!
Eva and her crowd hoping to Wave the Clouds away!
Pushing Hands, and Karen is showing off some good (low) stances!
---
The Sandhurst Connection
Gary and Dawn took part in Sandhurst Surgery Fun Day introducing the Taiji walk to some members of the Sandhurst Surgery. Dawn has started to take a class of Taiji and Qigong there with ambulant patients to carry on with the work started in Battle Hospital in Reading.
Gary & Dawn leading.
---
Taiji and Qigong Congress in Hungary
The students
The teachers
Eva gathering
Eva's assistant is busy, too
---
Jasnieres in France
Master William C.C. Chen's 'Three Nails Stepping'.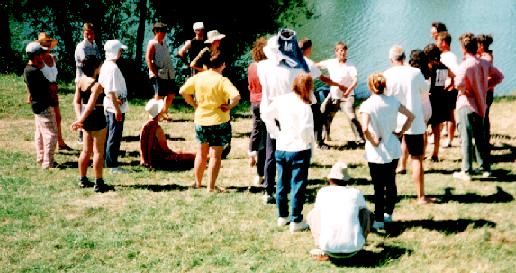 Eva teaching.
Simon despairing
Master William C.C. Chen talking
Charge of the Light Brigade.
A new version of pat-a-cake.
Dowsing for wine.
Practising diligently beforehand ...
... and then sneaking away from the real thing!
Eva gathering again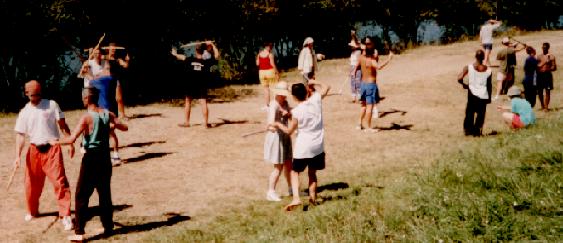 Sticks and stones may break my... Let's hope not this time!
---
Budo Summer Camp in Norway
After we have recovered from our above trips for a couple of days, off we went to Norway to teach at a Budo summer camp. Eva managed to hog most Internal Arts students with her classes of Chen Taiji and Silk Reeling whereas my Xingyiquan classes consisted of Aage and whoever else he managed to persuade to come. We haven't taken any pictures from our seminars (too busy teaching) so below are just few from our sightseeing. We stayed with Aage in a very pretty area of Norway (well, all of Norway seems to be very pretty!) and he took us on several trips to explore Norway's natural beauty.
View from Aage's cabin (south Norway).
A beautiful fjord on the western coast of Norway.
Karel, Eva, Tine and Aage in the mountains.
---
Taiji in Crowthorne
During our August Saturday Seminar, we concentrated on the 'flow of qi' in the form. Even though it's not all that easy at first attempt, everyone had a good try.
Glowing, I mean going, with the flow.
---
The Cancer Research Campaign
The first Reading "Relay for Hope" will take place at the Palmer Park Sports Stadium on Saturday 11 September at 3 p.m., to raise money for the Cancer Research Campaign. "Relay for Hope" is 12 hour fun challenge for teams who take in turns to walk, run or indeed crawl in relay around the track at Reading Palmer Park Sports Stadium. Apart from the teams running, there will be an arena including acrobats, Morris dancers, line dancers, netball, Taiji etc. The Chinese Internal Arts Association will provide a half-hour programme of Taijiquan, Xingyiquan, swords etc at 3 p.m. You are all welcome to come and support our team.

---
---